Actor thanked loved ones for all the wishes on her birthday as she updated worried fans about her health
Pakistani superstar Mahira Khan turned 36 yesterday. The actor had a rather busy year, thanks to her projects Quaid-e-Azam Zindabad and Neelofer. For the first time ever, she will be starring alongside Fahad Mustafa in the prior and the latter will reunite her with Fawad Khan.
Mahira had recently announced that she completed the final shooting spell for her second film.
But last week, the starlet took to Instagram and shared that she has tested positive for Covid-19. She went on to add that she was quarantining herself, ruling out any possibilities for an extravagant birthday. But that does not mean she was not celebrated.
The Superstar actor had to take to Instagram after several wishes poured in, to thank each and every one of her loved ones exclusively on her stories. "I'm going to try and reply to all the love and messages I have received in this time," she wrote. "And all the wonderful birthday messages, letters and videos too."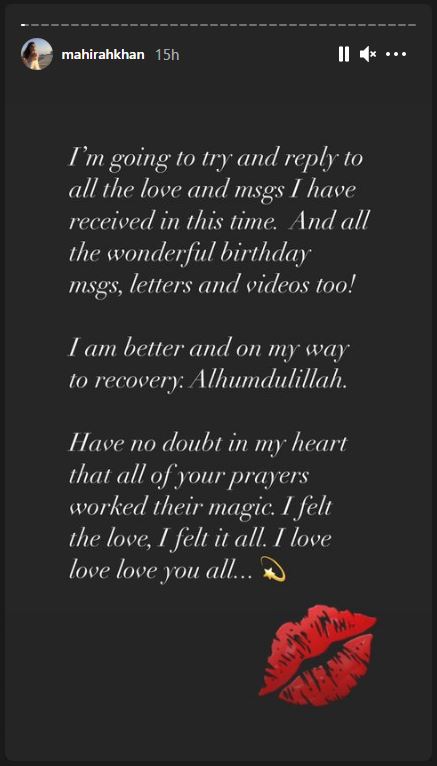 While doing so, she also assured her worried followers that she is feeling better and on her way to recovery. "I am better and on my way to recovery, Alhamdulillah."
"Have no doubt in my heart that all your prayers worked their magic," added the Verna star. "I felt the love, I felt it all, I love, love, love you all," she concluded.