President departs Zaman Park in Lahore after speaking with Imran Khan on significant military appointments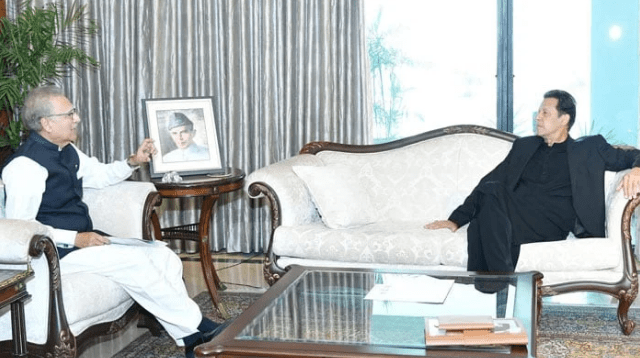 President Arif Alvi departed Lahore's Zaman Park on Thursday after speaking with PTI Chairman Imran Khan over the important military brass appointments. According to PTI leader Fawad Chaudhry, the White House would publish a statement at 7 o'clock.
"President Arif Alvi and Imran Khan met for 45 minutes. President Alvi has departed for Islamabad "stated Chaudhry in front of the PTI leader's house. Imran Khan and the president also spoke about the constitutional, political, and legal ramifications of the Army Chief appointment, the speaker continued.
Between 6:30 and 7:00 p.m., the President House will distribute a handout regarding this, said Fawad. He continued by saying that information on President Alvi's meeting with Imran Khan will also be included in the handout.
The appointment summary has been given to the president, but he hasn't yet signed it. It was said that the president would decide after speaking with the leader of PTI.
For the appointments of Lieutenant General Asim Munir as the upcoming army chief and Lieutenant General Sahir Shamshad Mirza as chairman of the Joint Chiefs of Staff Committee, Prime Minister Shehbaz Sharif earlier today sent a report to the president (CJCSC).
When General Qamar Javed Bajwa retires on November 29, Lt Gen Munir will take over as Chief of Army Staff (COAS), while Lt Gen Mirza will succeed General Nadeem Raza.
To stay out of political quarrels, Asif wants Alvi.
The Defence Minister anticipated political maturity from the PTI leadership in regards to the significant military appointments following the publication of the candidates.
Asif stated in a tweet: "The recommendation has been sent to President Alvi. Now Imran Khan must decide if he wants to improve the nation's defence system or make it contentious.
After the PTI chairman made it clear that he would be consulted once the summary was received and that he would "play within the law," Asif made his statement.
However, sources claim that President Alvi, a significant PTI supporter, promised not to put any obstacles in the way of the appointment of the new top military leaders.
"This is also a test for President Alvi to see if he will heed legal and constitutional advice or political advice. It is his responsibility to safeguard the nation from political conflicts as the Supreme Commander of the Armed Forces, Asif underlined in his tweet.
The defence minister stated that all issues have been resolved in accordance with the Constitution in a media interview held in Islamabad after the federal cabinet meeting.
The minister went on to say that it was anticipated that President Alvi would concur with the premier's recommendations.
Asif also announced to the press that a thorough press release on the progress would be released soon.