The Irish endurance athlete is attempting to finswim around the coast of Ireland.
Finswimming involves swimming on the water's surface using fins and a snorkel.
Known as Finman, a nod to his Carrickfin heritage and his mode of swimming, Mr Ó Domhnaill wants to become the first finswimmer to circumnavigate a country.
The 56-year-old former Irish army ranger is currently swimming along the coast of County Down.
'Overwhelmed in County Down'
It is now a month since he began his expedition on the north-west coast of Ireland, at Carrickfin Beach in his native County Donegal.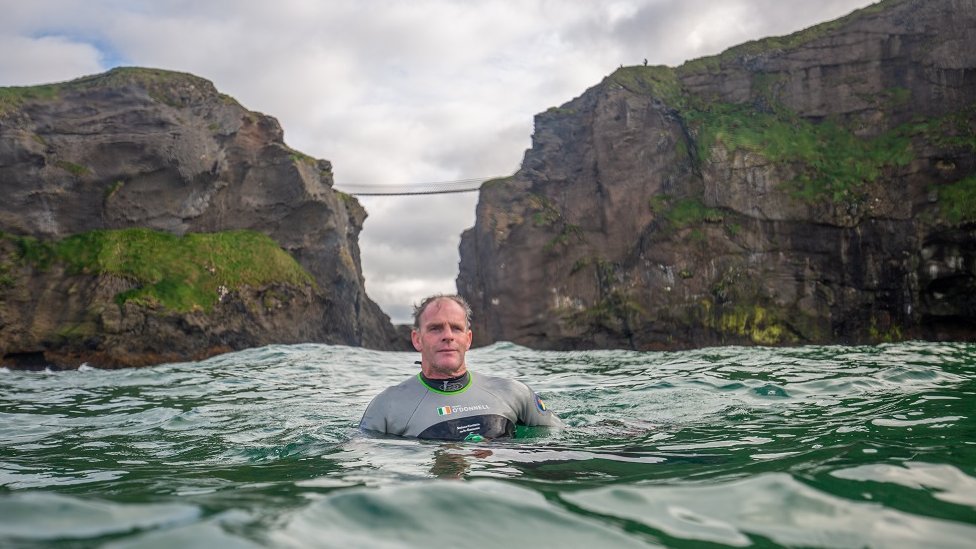 "I hope to complete this gruelling expedition within a year," Anrí told BBC News NI.
"One month in, I am only too aware of the many arduous challenges ahead."
But he is being inspired along the way by the encouragement of local coastal and maritime communities.
During his stopover in County Down, he said he was "overwhelmed by the support and encouragement" he received when back on dry land in Donaghadee and Bangor and most recently in Ardglass.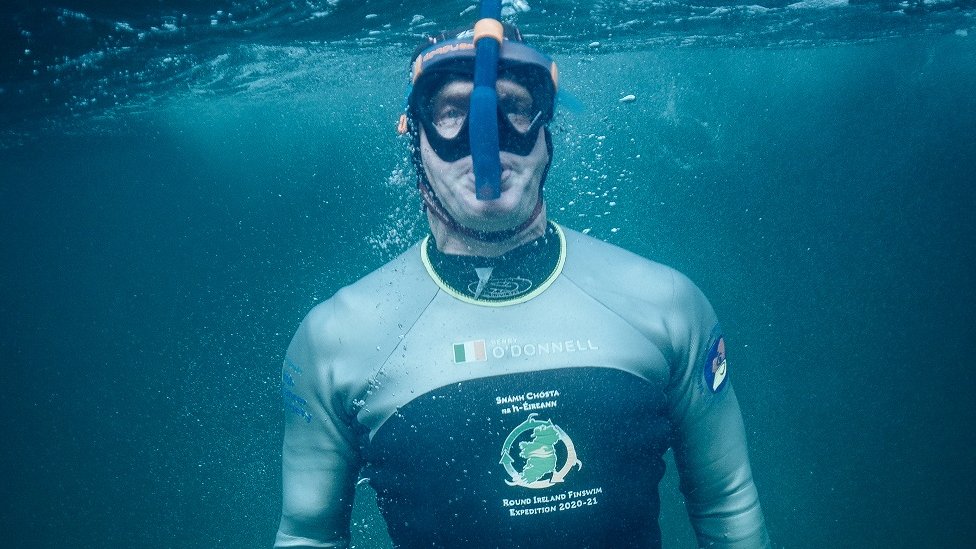 Mr Ó Domhnaill, who served with the UN peacekeeping force in Lebanon during the 1980s, has already completed numerous endurance expeditions around the world.
He completed a sub-sea to summit expedition in South America in 2014.
"This pioneering project, over four to five weeks, involved reaching the highest to lowest points in the western and southern hemispheres, crossing a segment of the Patagonian Desert, traversing the Perito Moreno Glacier, diving and swimming in the sub-Antarctic Beagle Channel and climbing the Martial Glacier," he said.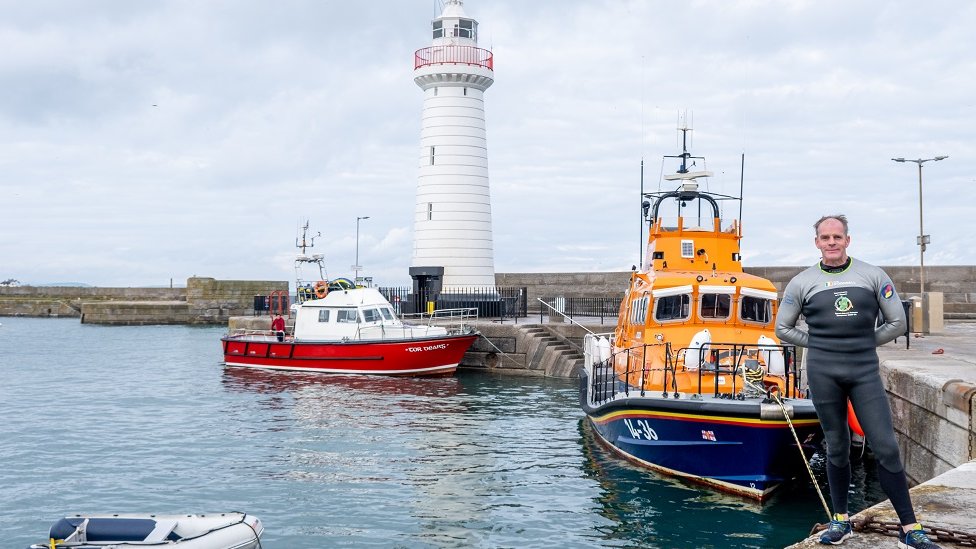 The previous year he completed a Trans-Russian Expedition achieving the lowest to highest points of Russia – the highest being the summit of Mount Elbrus, the highest mountain in Europe and one of the coveted Seven Summits.
The Irish endurance swimmer believes his experience on these and other expeditions, on land and sea, will help him as he attempts to circumnavigate his native country within the next year.
"It is a major challenge for myself and my expedition support team on land and at sea," he said.
"We also realise that some of the biggest challenges lie ahead with the worsening weather of the winter and the realisation that the last leg will be completed in the turbulent seas of the Atlantic Ocean, along the Wild Atlantic Way."
After a few days rest on land, Mr Ó Domhnaill, is resuming his expedition from the North Channel, between Northern Ireland and Scotland, to make his way down the Irish sea and across international lines, from British to Irish territorial waters.
That will eventually bring him towards the coastline of the Irish capital city, Dublin.